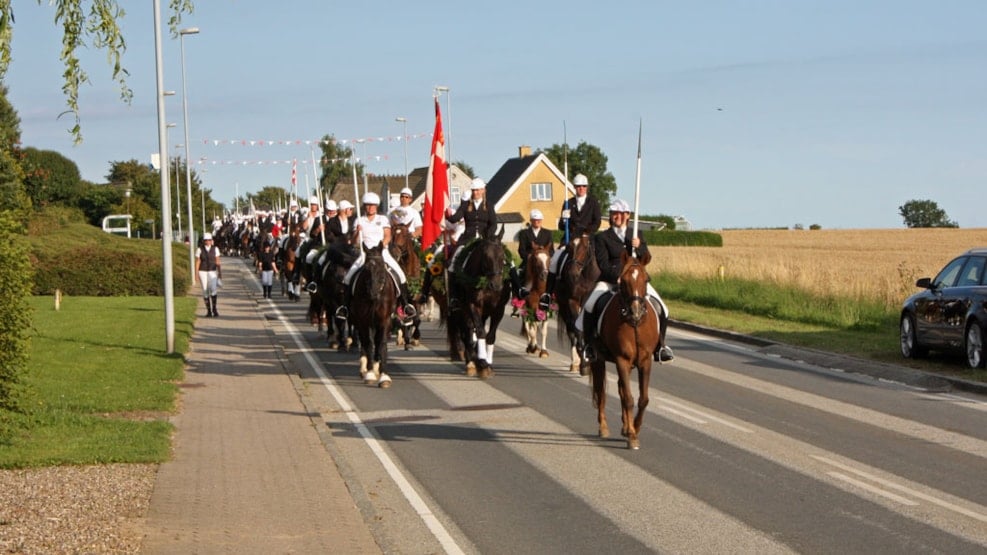 Tandslet Tilting-at-the-Ring
Tandslet Village and Tilting fête.
On the 2nd weekend in August the yearly Village and Tilting-at-the-Ring Fête is held on the sports ground at Sydals-Hallen in Tandslet.
Friday evening there is a lot of common fun with "Spiel ohne Grenze" and Dice Tournament. "Spiel ohne Grenze" is a number of challenges arranged by the participating societies.
Saturday there is a sponsored run on bicycles among others   and lunch with a lot of "Hygge" (cosiness) whilst eating herrings, later the seniors enjoy their coffee table and there is Tilting-at-the-Ring on tractors. In the evening, there is party in the tent with food, good music and dancing.
Sunday is the day of the Tilting Tournament where approx. 165-175 riders on horseback gathers at the tilting grounds to compete through the day. At the end of the day, the final tournament for the title of King is held.
Through the years, we also have been the venue of the tournament Alssund Championship. The Alssund Championship is the finals, between the riders, who has won a title as King in one of the other tilting events in Sønderborg Municipality. Typical 12-15 riders compete for the title as best tilting rider of the year – the Alssund Champion.
The citizens of Tandslet have a good community and everyone joins in to ensure that this weekend remains in the calendar in years to come.