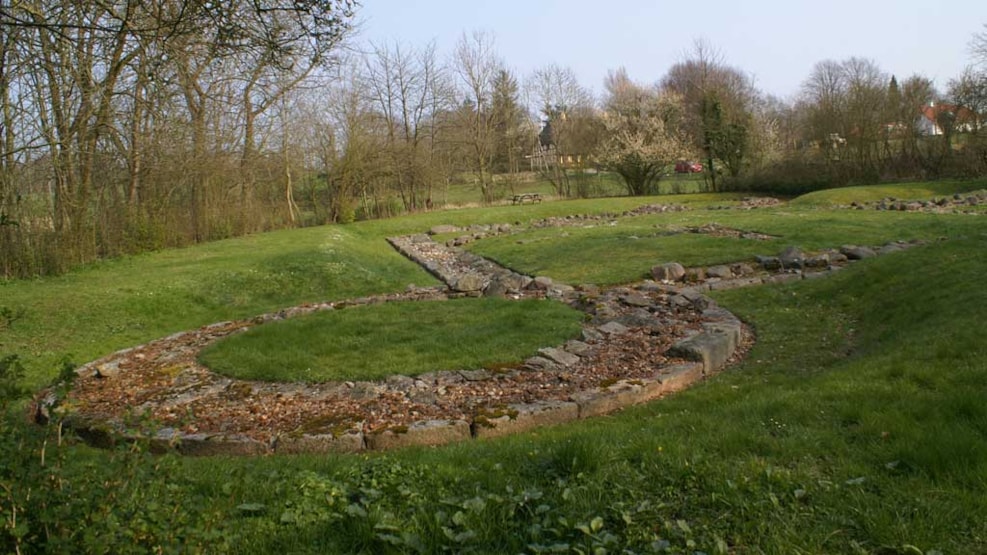 Østerholm Castle ruin
Present days there are three castles on the island of Als, but there used to be four.
At the small village Østerholm, near the forest Nørreskoven, you can see the foundation stones of Østerholm Castle.
In 1555, Thomas Sture build the estate Helwithgård with belonging chapel. The service was corrected from Nordborg until 1584, where the duty is transferred to the church at Egen.
Duke Hans the Younger takes possession of the estate in 1584 and renames it Østerholm. Hans the Younger converts the estate into a pleasure- and hunting castle. Two towers with cobber coated onion domes are build and placed diagonal of each other and a French inspired stair tower is added.
The first wife of Duke Hans the Younger, Princess Elisabeth, dies at Østerholm February 11th 1586 and is entombed in the newly erected burial vault at Sønderborg Castle.
At some point of time, Østerholm is used as dower house. Duchess Eleonora moves in after the death of her husband Duke Frederik in 1699 and lives here until her own death in 1680 after a longer term of illness.
Duchess Elisabeth Charlotte is the last to use the castle as dower house. She stays at Østerholm Castle from Duke August´s death in 1699 until her own demise in 1723.
Østerholm Castle is sold to King Frederik IV in 1723. The king newer uses the castle and it is left to decay. Ten years on the castle is accessed by a building commission and found to be in such a state of disrepair that it is beyond salvation. Østeholm is thorn down to the foundation and the stones are reused in the erecting of Nygård in forest Nørreskoven, Hjortholm on Kegnæs and Solbjerggård.
The castle ruin is situated at Voldstedvej and open for public.