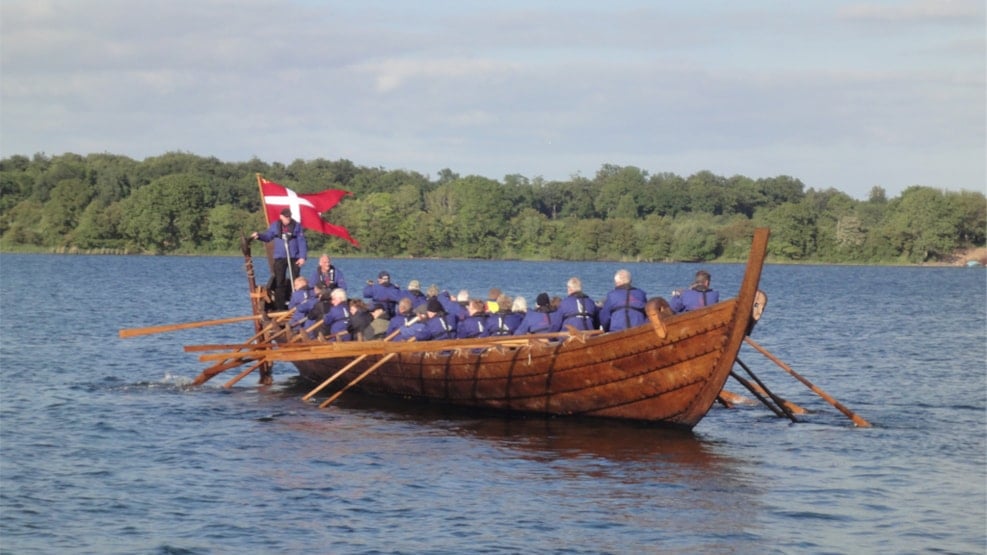 Nydam Tveir
A 1:1 replica of the famous Nydam Boat from approx. 320 A.D. found in Nydam Bog in 1863.
Nydam Tveir is a clinker built oak ship, it is 23 m long and 3,4 m wide. The boat weighs 4,4 tonnes and provide space for 30 rowers. 
These special clinker-building traditions are known only from Scandinavia and the original Nydam Boat, which was found in a bog by Sundeved, is the oldest known specimen of this form of ship. In December 2021, the clinker boat tradition was included on Unesco's list of living cultural heritage.
From May to September you can enjoy the sight of Nydam Tveir at see, when members take it for a tour on the Als Sund. This happens Tuesdays at 6.30 pm if the weather permits. The boat and crew often participate at the yearly event Culture- and Sports Night in Sønderborg.
In July and August of summer 2023, there will be open house events on Saturdays and Sundays from 2-4 pm at the naust (boat house), where crew members tell about the boat, the naust and the clothes.
All year round there is people at work in the naust on Thursdays from 9 am - 2 pm.