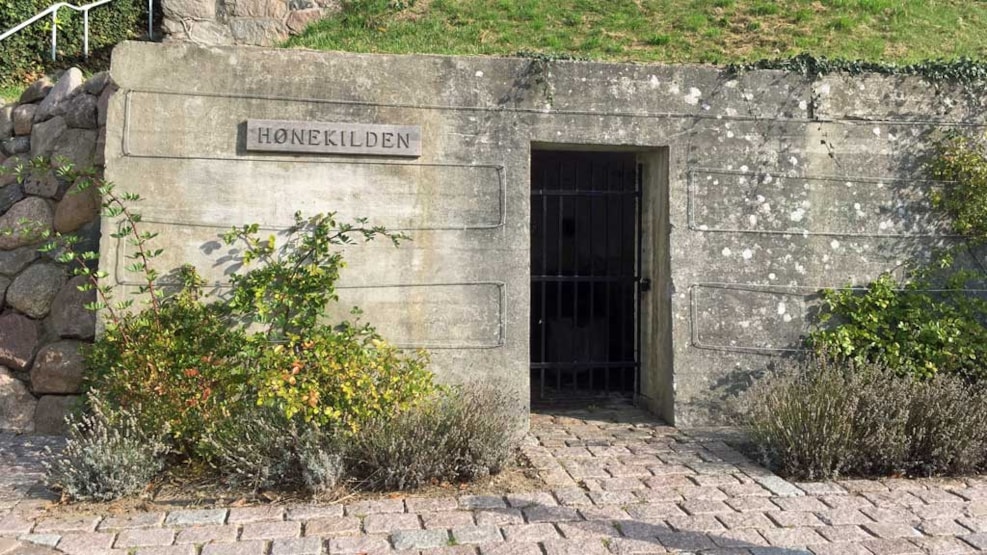 Hønekilden - Spring - Legends and myths
The legendary spring was so well known for its clean water that citizens from other part of the town collected their water for cocking here and during the 16th century, the spring supplied the water fountain at Sønderborg Castle owned by Queen Dorothea. Today you can see the outflow through a wrought-iron gate.
A legend says, that the children from the street Havbogade where not delivered by the stork, like in the rest of the town and country – they were fished up from the spring Hønekilde, where they simply where swimming around.
Another saying tells, that if a young maiden looks down the well on the evening of the Day of the Holy Kings, she can see here future husband; one night a young girl instead saw here self in funeral clothing. In confidence, she told a girlfriend about the frightening sight, but on the same night the fright drove here out in the dark night and her body was found in the cold harbour water the next day.
It is also told if a woman can´t conceive she must step over the water from the spring – if the water has magic powers or if a following pregnancy is due to a helpful soldier from the barrack, we will leave unsaid…
In 2016, the place was beautified by a water fountain by Vibeke Fonnesberg.