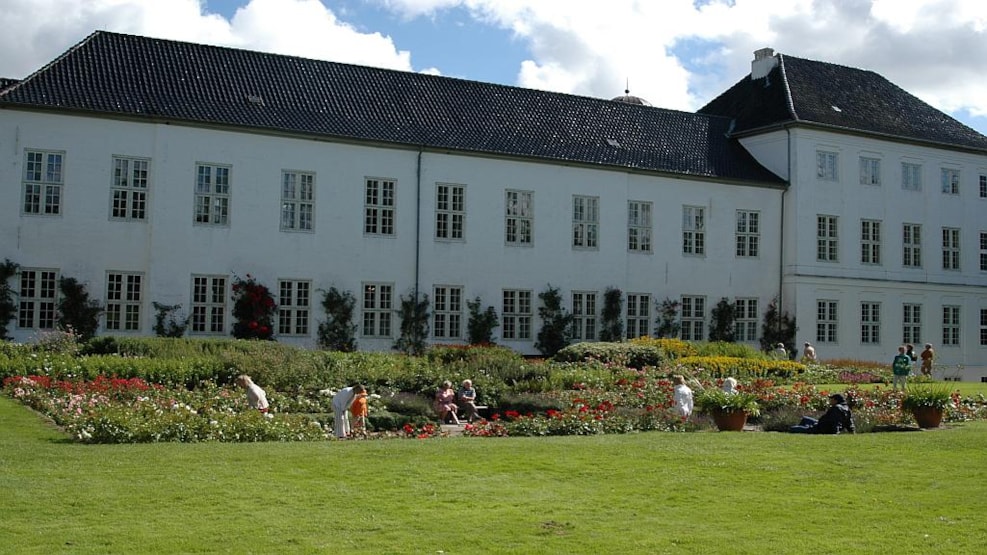 Gråsten Palace Garden
Winding Paths, vast lawns, woods, lakes and flower beds blending uniquely with the South Jutland landscape - that is Gråsten Palace Gardens in a nutshell.

The profusion of flowers is also magnificent. Queen Ingrid loved flowers and left a profound mark in the gardens, making them a vivid example of contemporary Royal landscape gardening.

Queen Margrethe carries on her parents longstanding tradition of using Gråsten Palace as a summer residence. Today the queen has her say in the Gardens colour scheme and selection of plants.
Gråsten Palace Garden is open to the public all year round, so you can also enjoy the garden in its autumn colors, in winter and in early spring - however, the rules listed below must be observed.
Guided tours for groups through the garden and in the church can be booked at Sønderborg Tourist Office. 
NB. When the royal family is in residence at Gråsten Palace, the Palace Garden is closed to the public, thus the Royal Kitchen Garden will still be open.

Rules of order at Gråsten Palace Garden
Do not cycle or use electric vehicles such as segways, skateboards or scooters in the garden
Do not grill or make a fire
Your dog is welcome when it is on a leash
Flowers and branches must not be picked, cut or broken
Do not walk on the onion lawns
You must not move on the ice on the garden's lakes and ponds
You must not ride in the garden
You must have a special permit from the Culture and Palaces Agency to fly a drone in the Palace Garden
To hold meetings and events, you must obtain permission from the Culture and Palaces Agency