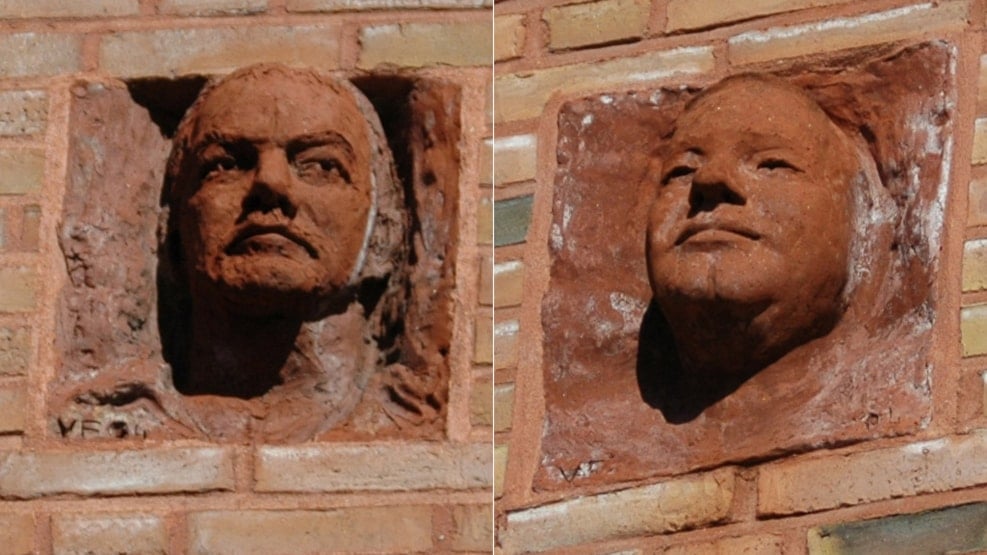 Faces and Solo-factory/Alssund
Faces
Faces in burnt clay, produced in 2004 by the local artist Vibeke Fonnesberg.
The faces are placed in the wall on the Solo-building at The Spanish Stairs.
The Solo-building is an apartment house with 150 units; build on the grounds where the Margarine Factory Solo used to be.
The six faces are portraits of the board members who were active in Boligforeningen af 1942, at the time of construction.
Entrance between Sønder Havnegade 27 and 32.
Solo-factory/Alssund
Sculpture in granite made by the locally born stone mason and artist Claus Nydal (1962-2011).
The little granite sculpture shows the curved facade of the margarine factory Solo, who was situated here from 1888 to 2002. The factory was knocked down in 2003 and apartments were built on the site.
In front of the socket is the so-called Sculpo-knop, which can be seen on all art works by Claus Nydal. On the backside of the sculpture are the waves of the inlet Als Sund.   
Erected by Kunstfonden and revealed on the 5. December 2014.
Corner of the streets Sønder Havnegade and Nørrebro in Sønderborg.