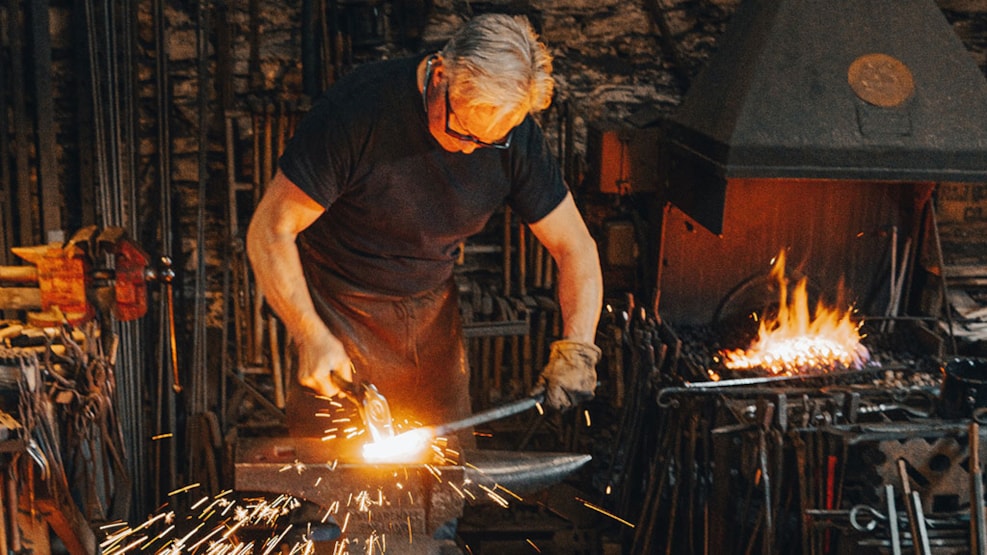 Emm's Knive Blacksmithing course - make your own knife
Bring good humor and patience to this traditional craft that can proudly look back on centuries of dignified work! For what would a knight be without a suit of armor or a chef without his fillet knife?
There is no mass production here. It's about getting a feel for the product and the work the knife maker and blacksmith do.
Yes, here you will possibly encounter some limits physically and go home dirty and sweaty, but at the same time be happy with your completely personally made knife.
We offer 2 courses – a 1- or 2-day course
It is important that you wear cotton work clothes and wear firm leather footwear. We have protective equipment available.

The 1-day course lasts approx. 8 hours - price DKK 1676
Here you can make a medium-sized kitchen knife or an outdoor knife without forging.

The price includes all costs for material, in the form of knife blade and ordinary wood for the handle. Other materials, such as Damascus steel, horn or mammoth can be purchased.
2-day course - price DKK 3352
Now it's getting hot. A blade must be forged, for either a kitchen knife or an outdoor knife.
A little about us
As we originally come from Germany, we do not speak perfect Danish, but we take lessons and practice diligently, on the other hand, we are quite good at English. Our website is currently only in German.
We are very interested in sharing our knowledge and, not least, skills for this old craft with others. If you are interested, we would like to offer a blacksmithing / knife course for smaller groups (2 people).
Our product range is continuously expanding and at the moment we work with epoxy products and manufacture small tables. In the future, it is also something we will give courses in, but right now we are taking one thing at a time.
We will be pleased if we have piqued your interest.
Steffi and Marko