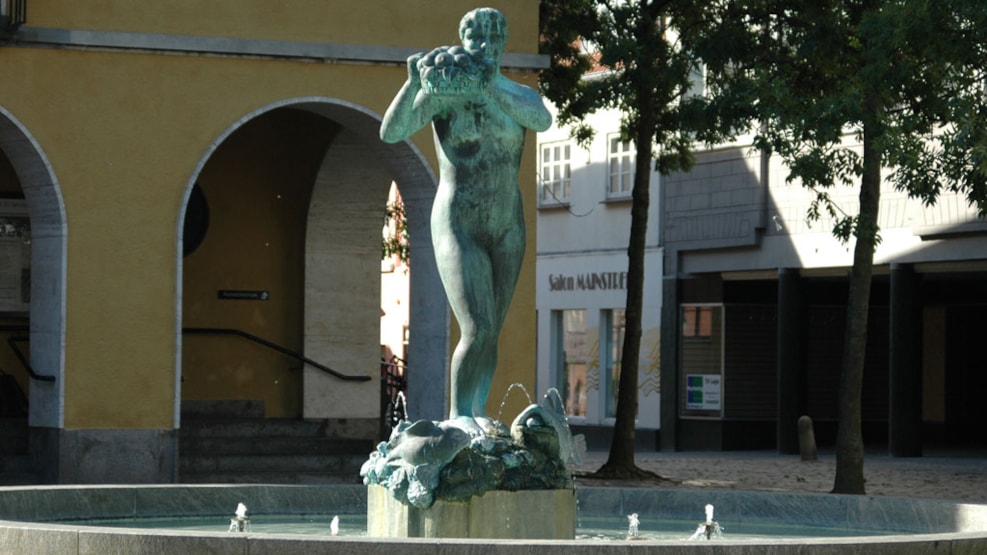 Als - statue of girl in fountain
The statue Als has a central location in front of the town hall in Sønderborg, when the lush girl was revealed in her time, not all citizens of the city were thrilled.
The statue Als was made by sculptor Adam Fischer (1888-1968) in 1947. The bronze statue was a present to the city, given in 1951 by `Ny Carlsbergfondet´. She wasn't highly valued by all citizens, some thought that she didn't live up to the idea of the ideal woman, but as time went by she became more loved and today she is called The Als Girl (Alspigen).
The fountain figure is placed on a socket of granite in a round basin in front of the city hall – almost as if she was standing on her own island. Like her ideal Venus she represents the Love to the life of the island Als. The basket of apples she is carrying in her arms is a sign of the soils fruitfulness and the fish at her feet symbolizes the water around the island.