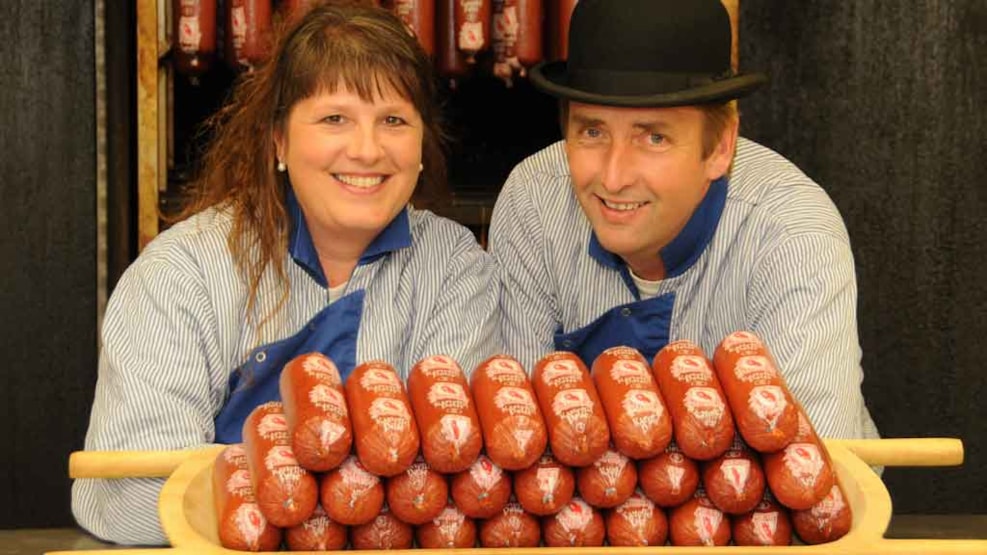 Als Pølser
Als Pølser, also called Hørup Pølser, has produced sausages (pølser) and delicatessen of best Southern Jutland quality for over 50 years, a tradition going back in the family for even longer time. Als Pølser produces everything according to original recipes developed with great care and passed down from generation to generation.
Today's responsibility of continuing the high quality production of Als Pølser lies with Peter and Lilian Petersen. A task they do by guarding old recipes, as well as creating new products providing an extra dimension to the traditional assortment.
Peter and Lilian have guarded the skills of good quality throughout all the years. Als Pølser is known for the delivery of high standard and quality, a quality that is maintained by using good raw materials especially selected for the purpose.
Als Pølser is also known for the good taste and their customers keep coming back over and over again. Also "alsinger"(inhabitants of Als) that have moved from the island of Als, but simply can´t do without the good delicatessen, are ordering from Als Pølser all the time. Today their sausages and delicatessen are distributed all over Denmark through a network of exclusive dealers.
Als Pølser serves up a large selection of sausages and delicatessen of the highest quality. Their product range includes a variation of spegepølse (salamis), the famous leverpølse (liver sausage), special sausages like the genuine Southern Jutland tee-pølse (a bread spread made of pork), leverpostej (liver pâté) and many other specialities.